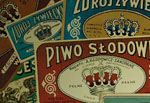 Zywiec Brewery was established by Archduke Friedrich Habsburg in 1856 in the heart of Zywiec Valley, whose brewing traditions date back to the Middle Ages. The excellent quality of its products and its yearly production growth has greatly expanded the circle of Zywiec beer devotees. The Brewery launched export activities way back in 1913 when total exports of Zywiec beer accounted for 21.3 % of its overall output.
Zywiec Brewery, which had survived the World War II and the difficult post-war period, became one of Europe's most modern beer-producing facilities in the 1990s.
Zywiec – Poland's best pilsner-type brew, with a 5.6 % alcohol content and 12.5 % Balling scale extract content, brewed for generations under the watchful eyes of master brewers, has won numerous awards and has been held up as a glowing example world-wide. Bearing the original label which depicts a couple of Polish folk dancers, it is the most famous brand and the official trademark of the entire Brewery. There is no other beer in Poland brewed under the same label for half a century.
Zywiec was the first Polish brand to be awarded the Brand To Watch title at British edition of Superbrands. Zywiec was also two times awarded at the Polish edition of Superbrands event and is a Gold Medal winner at the 2007 World Beer Championships, the oldest international beer competition in America.